Demam world cup menjadi-jadi bila dah masuk pusingan kalah mati.
Sebelum world cup dah sampai tahap ni, aku sokong banyak team. mari kita lihat.
Yang memang aku sokong
Germany:
aku memang kipas-susah-mati germany. Germany tak sepopular spain, portugal dan england. Tapi dia banyak 'star' macam
Lukas Podolski
,
Cacau
,
Miroslav Klose
, Gomez dan yang paling penting
,
Bastian Schweinsteiger
!! bagaimanapun mengalami kekalahan yang memalukan dalam perlawannannya menentang serbia. Harap dia boleh mara. hmm
France:(out)
Aku suka gila France! tapi malangnya semenjak Zidane keluar, kekuatan france pun ikut sekali. Tapi bagi aku France ada chance menang, at least sampai ke kalah mati; kalau dia bagi Samir Nasri main. Apahal dia tak bagi? pasal dia muda sangat? ke pasal dia orang islam???? bodoh punya france.
South Korea: (out)
Kecewa aku bila dia kalah dengan Uruguay semalam. Park Ji Sung still the best! =)
Japan:
Orang kata kalau sokong Korea tak boleh sokong Japan. Pasal diorang rival. Jujur sebenarnya aku harap diorang lawan sama sendiri. Anyway, aku impressed dengan japan punya free kick. memang hebat. star player diorang ialah Keisuke Honda dengan Shinji Okazaki. heh
Yang mungkin aku sokong
Argentina:
Ramai yang cakap Argentina yang akan menang world cup kali ni. Semua gara-gara Messi. Tapi Messi memang bagus pun. heh. dan aku rasa dia akan meet Germany kalau Gemany dapat kalahkan England. Sucks.
Brazil:
Memang legend footballers ramai dari Brazil. Tak mengapa.
Aku aku takkan sokong:
Spain:
Nothing personal la radzi, aku just tak sokong torres pasal dia liverfool. hahahaha. Tapi aku suka Cesc Fabregas juga la. heh.
Portugal:
Terus terang aku tak suka C Ronaldo. heh. Poyo mamat tu.
Somehow aku dah tak bagi harapan tinggi kat Germany sangat dah.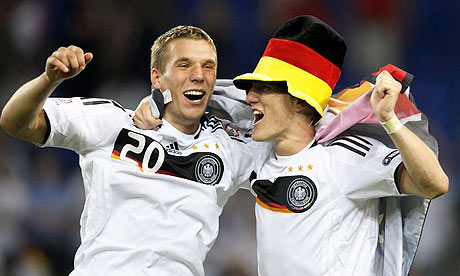 Go Deutschland!
This entry was posted on October 4, 2009 at 12:14 pm, and is filed under
. Follow any responses to this post through
RSS
. You can
leave a response
, or trackback from your own site.